SkyMed is set to return for a fresh season on CBC, where it continues to explore the intricate character journeys amidst high-stakes medical rescues. The series follows the challenges, heartbreaks, and triumphs of budding nurses and pilots as they navigate the world of air ambulance missions. Here, we've everything you need to know about how to watch SkyMed Season 2 in the US on CBC for free.
Quick steps: How to watch SkyMed Season 2 in the US on CBC for free using a VPN
Select a VPN service that is optimized for streaming. We recommend ExpressVPN or PIA VPN
Download the VPN and connect to the Canadian server.
Log in to CBC.
Find SkyMed Season 2 and stream it no matter where you are!
Why is CBC not available in the US?
The CBC streaming service is restricted within Canada, posing a challenge for viewers outside the region. To address the issue of limited access, viewers can use a VPN with Canadian servers, which enables seamless access to CBC's streaming content from the US.
SkyMed Season 2 release date
The medical drama SkyMed is scheduled to return with Season 2 on Sunday, October 1, 2023, and will be available for streaming on CBC GEM.
What time will SkyMed Season 2 be on CBC?
CBC will release SkyMed Season 2 on Sunday, October 1st at 9:00 PM.
Where can I watch SkyMed Season 2 in the US for free?
If you're in the US, accessing SkyMed Season 2 can be challenging due to geographical restrictions, as it's exclusively available for streaming on CBC in Canada. However, you can overcome these restrictions by using a VPN with Canadian servers, which will allow you to watch and enjoy the show in the US.
SkyMed Season 2 plot – what happens?
Skymed takes us 20,000 feet above, entwining intense character journeys and high-stakes medical rescues. It follows the emotional rollercoaster of young nurses and pilots navigating air ambulance missions in the challenging terrain of remote Northern Canada. With no one else to depend on, they face trials, heartaches, and triumphs together, constantly pushed beyond their limits.
Who's in the SkyMed Season 2 cast?
In Season 2, the returning characters find themselves in the snowy spring, relocating to a new Crew House. Here, they will encounter new crew members who will join them in providing SkyMed's medical emergency services across both Manitoba and Ontario.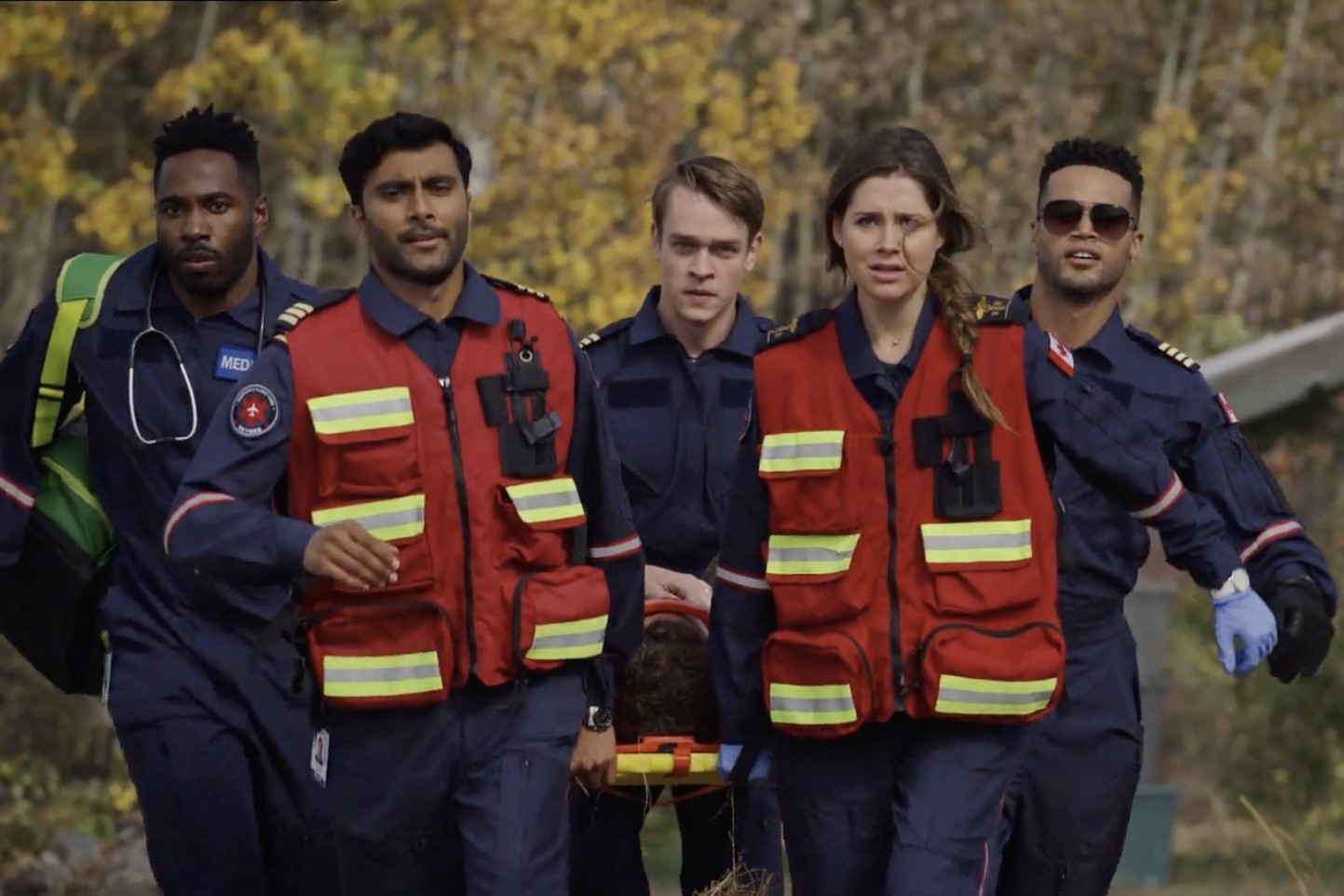 Source: CBC
The main cast for the series includes:
Natasha Calis as Nurse Hayley Roberts
Morgan Holmstrom as Nurse Crystal Highway
Aason Ace Nadjiwon as Captain Austen Bodie
Praneet Akilla as First Officer Chopper
Mercedes Morris as First Officer Lexi Martine
Thomas Elms as Captain Nowak
Kheon Clarke as Nurse Tristan Green
Aaron Ashmore as Wheezer
Braeden Clarke as Jeremy Wood
Rebecca Kwan as Emma Lin
Sydney Kuhne as Stef
Ryan Ali as Reese
Nadine Whiteman-Roden as Dr. Yana Noah.
What else do we know about SkyMed Season 2?
SkyMed is an intense medical series set in the high-stakes environment of remote Northern Canada, specifically in Ontario and Manitoba. In this remote northern region, assistance is often thousands of miles away. The show centers around a diverse group of young First Responders, capturing their experiences dealing with life-and-death situations, personal victories, relationships, and emotional challenges.
Source: Moviesonline
Operating in this hazardous and unforgiving environment, they are pushed to confront their fears and mature as they welcome new members, including nurses and pilots, into their air ambulance team.
SkyMed Season 2 official trailer
How many episodes does SkyMed Season 2 have?
Season 2 of SkyMed will consist of a total of 9 episodes, with each episode airing once on a weekly basis.
Season 2 Episode 1: Return to Base – Oct. 1, 2023
SkyMed expands its medevac service into new territory, causing upheaval as familiar faces return and intriguing new flight crew members arrive.
Season 2 Episode 2: Spun Out – Oct. 8, 2023
While the SkyMed crew awaits the recovery of their injured team member, Crystal begins to find her footing as a medical student, and a hidden secret from the past jeopardizes Nowak and Tristan's relationship.
Season 2 Episode 3: Things That Matter Most – Oct. 15, 2023
Despite personal differences and challenges, the SkyMed team must come together to search for a missing medevac carrying four flight crew members.
What is SkyMed's IMDb rating?
SkyMed holds an IMDb rating of 6.4, based on over 1.2K votes.
How are the fans reacting to SkyMed Season 2 on social media?
Natasha Calis any day shes my fav first

— Lock & Key Fan & Stranger Things (@LeeAllenBeal6) February 25, 2023
How are the critics reviewing SkyMed?
In a Deadline review, Jesse Whittock mentions that the medical drama SkyMed is making its return to CBC. The series revolves around a group of young medics and pilots who operate air ambulances in remote northern Canada, navigating challenges and celebrating victories on their journey towards maturity while saving lives. Season 2 commences in the snowy spring, with returning characters relocating to a new Crew House where they will meet the fresh faces joining the SkyMed team to provide emergency medical services in Manitoba and Ontario.
What else can I watch on CBC?
FAQs
Is SkyMed Season 2 available on Netflix?
No, currently SkyMed Season 2 is not available on Netflix.
The best VPN for streaming SkyMed Season 2 in the US on CBC
ExpressVPN
When considering streaming content like SkyMed Season 2 in the US on CBC, ExpressVPN emerges as a top VPN choice. ExpressVPN boasts an extensive network of over 3,000 servers globally, guaranteeing high-speed connections and unlimited bandwidth. This ensures a smooth streaming experience without annoying buffering interruptions. Its unique MediaStreamer feature simplifies server switching, optimizing streaming performance.
During my own usage, I consistently enjoyed impressive speeds exceeding 70 Mbps on ExpressVPN's Canadian servers. This allowed me to seamlessly enjoy shows like SkyMed Season 2 without frustrating lag or delays. ExpressVPN places a strong emphasis on user security, incorporating robust features such as 256-bit AES encryption, a strict no-logs policy, automatic kill switch, and DNS/IPv6 leak protection.
While ExpressVPN may come with a slightly higher price tag compared to other VPN services, its fast streaming speeds and comprehensive security features make it a valuable investment. Moreover, the added peace of mind comes with a 30-day money-back guarantee, enabling you to try the service risk-free and receive a refund if it doesn't meet your expectations.
Private Internet Access VPN
Private Internet Access (PIA) has an expansive network of over 35,000 servers in 84 countries, which includes over 230 servers optimized for unblocking CBC. This extensive coverage ensures a seamless streaming experience without buffering issues. Making it an excellent choice for enjoying shows like SkyMed Season 2 in the US on CBC.
What sets PIA apart is its support for unlimited device connections and round-the-clock live chat tech support. PIA is compatible with a wide array of devices, including Apple TV, Android TV, Amazon Fire TV, and smart TVs. Providing the flexibility to unblock CBC on your preferred streaming device.
You have the opportunity to try out Private Internet Access risk-free with their 30-day money-back guarantee before committing. If you discover that it doesn't quite meet your expectations, their customer support is readily available via support ticket to assist with a refund request. This ensures that you can explore PIA's features and capabilities with confidence.